---
At the FoM 'Sustainability Symposium' yesterday, we explored what sustainability means for teaching and learning.
Sustainability is high on the list of priorities for BU, with KPIs for aligning all courses and research with one or more of the UN's 17 Sustainable Development Goals and the launch of a Strategic Investent Area for 'Sustainability, Low-Carbon Technology and Material Science' last week.  Yesterday an audience of academics, students, professional services colleagues and external practitioners came together to better understand the crises facing humanity today.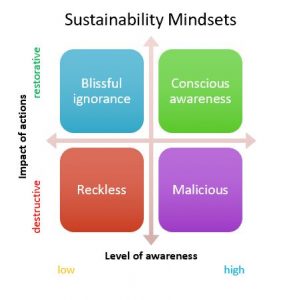 Gwyn Jones, Director of Association of Sustainability Practitioners, argued for sustainability to be viewed as the outcome of conscious thinking.    Accordingly, sustainability is experienced and practised rather than learnt in a classroom and is enacted as a mindset.
Four mindsets have been identified and our challenge is to move society and our learners towards the top right quadrant of conscious awareness.
The question we asked was 'What does extinction mean for business?'   It became clear that the question is relevant not only to the Business School, but for all disciplines at BU as indicated by a comment from one participant "I found it really interesting and frankly rather scary (and I'm informed) … I'm keen to try to do something similar [in my Faculty] and be active in this agenda more broadly" (FC).
Most models of business are based on assumptions that value profit and growth above all else.  Many of these models were developed during the industrial revolution and are now contributing to the destruction of our environment and society.  According to Gwyn, those who claim to have answers to sustainability, don't understand the problem.
We discussed new business models and case studies that are based on understandings of purpose and decision-making that balances competing priorities.  One student who was with us for the day commented "I am very excited to interact with all the bright minds in the room discussing sustainability … it was a great day for me" (Sacha, MBA student).
So, what does this mean for programmes and pedagogy?  We can no longer rely solely on text books because we are only just starting to uncover the questions we need to ask.  Understanding how we can live sustainably with 'enough for everyone, forever' has not been addressed before and we do not have answers yet.  We need to be comfortable asking difficult questions and seeking answers in novel ways.  Social learning is one approach being used to develop new concepts.  Dr Karen Thompson and Dr Nigel Williams have been collaborating with practitioners to ask novel questions and develop new resources for education, research and practice of Responsible Project Management.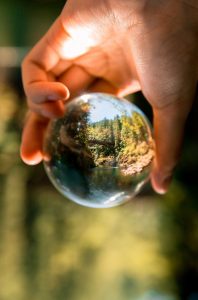 An argument made by Karen is that sustainability should not be seen as an 'add on' to the curriculum, rather it should be used as a lens through which we view all aspects of our discipline.
Experiential learning will be important for developing a sustainability mindset among learners.  'Living Labs' are recognised in BU2025 and can be expected to play a useful role for both education and research in the future.  We need to develop learners' sense of agency and confidence that they can make a difference in the world.  Virtual reality may have a role to play in developing the capabilities for managing more responsibly.  Lastly, we need to encourage our graduates to become advocates for better decision-making in the organisations they will work in.
There are two related blogs from the 'Sustainability Symposium', please click here and here to access
For further information, or for advice about running your own sustainability event, please contact Dr Karen Thompson or Professor Janet Dickinson, both from Faculty of Management