The 13th Annual Postgraduate Research Conference, hosted by the Doctoral College.
Nurudeen Adesina (PhD, FHSS) with this poster entitled: Effectiveness and Usability of Digital Tools to Support Dietary Self-management of Gestational Diabetes Mellitus: A Systematic Review.
Click the poster below to enlarge.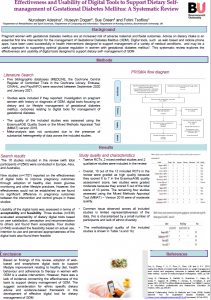 A systematic search of Medline, Embase, CINAHL, Cochrane library and Web of Science using key search terms identified 1476 papers reporting research studies, of which 16 met specified inclusion criteria. The quality of the included studies was assessed using the ErasmusAGE Quality Score or the Mixed Methods Appraisal Tool version 2018. Meta-analysis was not conducted due to the presence of substantial heterogeneity of data across the included studies. Our findings show that adoption of digital tools to support lifestyle improvement relating to healthy diet, health behaviour and adherence to therapy in women with GDM is a usable intervention. However, there was a lack of evidence concerning the effectiveness of the tools to support dietary management of GDM. Our systematic review suggests consideration for ethnic specific dietary advice and evidence-based framework in the development of effective digital tool for dietary management of GDM.
---
You can view the full poster exhibition and pre-recorded presentations on the conference webpage.
If this research has inspired you and you'd like to explore applying for a research degree please visit the postgraduate research web pages or contact the Doctoral College dedicated admissions team.