The 13th Annual Postgraduate Research Conference, hosted by the Doctoral College.
Taalia Nadeem (PhD, BUBS) with this poster entitled: Understanding the social representation of uncrewed aerial vehicles (UAVs): how public and stakeholder views empower or constrain pathways to adoption.
Click the poster below to enlarge.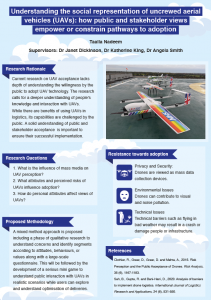 UAVs now support various purposes including within healthcare logistics. There are benefits of using UAVs, but their capabilities are challenged by the public. A solid understanding of public acceptance of UAVs is important to develop appropriate regulatory strategies therefore, the following research questions arise: What is the influence of mass media on UAV perception? What attributes and perceived risks of UAVs influence adoption? How do personal attributes affect views of UAVs? A mixed method approach is proposed including a phase of qualitative research to understand concerns and identify segments according to attitudes, behaviours, or values. This will be followed by a large-scale questionnaire.  Studies demonstrate that mainstream media is the main source of information about UAVs, but due to lack of knowledge, the public is unable to make a more informed opinion, and this calls for a deeper understanding of people's knowledge of UAVs.
---
You can view the full poster exhibition and pre-recorded presentations on the conference webpage.
If this research has inspired you and you'd like to explore applying for a research degree please visit the postgraduate research web pages or contact the Doctoral College dedicated admissions team.