The 13th Annual Postgraduate Research Conference, hosted by the Doctoral College.
Shell Smith (PhD, FHSS) with this poster entitled: Does motorcyclists' identification, perception, and knowledge towards risk change regarding their motorcycling qualifications and experience?
Click the poster below to enlarge.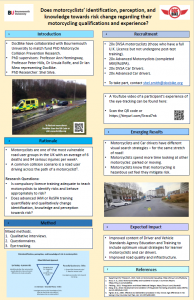 Motorcyclists are one of the most vulnerable road user groups in the U.K. with an average of 6 deaths and 94 serious injuries per week. A common collision scenario is a road user driving across the path of a motorcyclist. Consequently, the research questions ask where motorcyclists and car drivers are directing their visual attention and hazard perception and whether there are differences between advanced motorcyclists and advanced car drivers vs standard trained motorcyclists and car drivers. Prior research specifically targeted at motorcycle collision prevention is limited, with only 15 studies using eye-tracking methodology. To target gaps in the literature; this is a mixed methods study using qualitative interviews, questionnaires, and eye-tracking. Initial findings indicate that motorcyclists and car drivers demonstrate different visual attention patterns. Thus, it is possible to change driving and motorcycle test training to teach how to direct visual attention and cognition to hazards.
---
You can view the full poster exhibition and pre-recorded presentations on the conference webpage.
If this research has inspired you and you'd like to explore applying for a research degree please visit the postgraduate research web pages or contact the Doctoral College dedicated admissions team.