The 13th Annual Postgraduate Research Conference, hosted by the Doctoral College.
Samantha Everard (MRes, FHSS) with this poster entitled: How do people with multiple disabilities experience, engage with and participate in self-employment support.
Click the poster below to enlarge.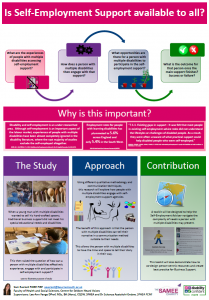 "Seeing every individual for their ability, especially those with hidden impairments, makes good business sense" (Kirby, 2014a), but when a person with multiple disabilities decides to experience, engage with and participate in self-employment support, there is currently a lack of clarity and guidance to meet the individual needs of disabled people wanting to engage in self-employment.  An internet search will bring up numerous results with websites and organisations offering generalised support, but there is very limited information offering a person-centric service. This research aims to identify gaps within the general self-employment support model and work towards a more cohesive level of accessible information, advice, guidance and resources. My research is focussed on gathering qualitative data through one-to-one interviews using Photovoice as this allows the participants with multiple disabilities to openly engage with the topic and tell stories about their experiences in their own individual ways.
---
You can view the full poster exhibition and pre-recorded presentations on the conference webpage.
If this research has inspired you and you'd like to explore applying for a research degree please visit the postgraduate research web pages or contact the Doctoral College dedicated admissions team.