The 13th Annual Postgraduate Research Conference, hosted by the Doctoral College.
Rosie Harper (PhD, FHSS) with this poster entitled: Nudging: a theoretical concept for a very practical approach to pelvic floor muscle training.
Click the poster below to enlarge.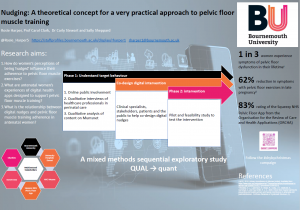 A third of women suffer from stress incontinence which affects their physical, mental and social wellbeing. Pelvic floor exercises are the gold standard treatment, but women's adherence to these exercises is poor. It is suggested behaviour change techniques, including nudge theory, could be used to improve adherence. The research will explore the role of nudge theory in causing predictable changes in behaviour in antenatal women, gain insight into antenatal women's experience of digital nudges and allow a better understanding of the influence of digital nudges on pelvic floor muscle training adherence. The first phase involves a literature review to explore the effect of digital nudges on exercise adherence in antenatal women. Phase two of the study involves qualitative data collection and analysis to explore women's experience of digital nudges. The third phase of the study will be a feasibility study which includes a pilot of the intervention – digital nudges.
---
You can view the full poster exhibition and pre-recorded presentations on the conference webpage.
If this research has inspired you and you'd like to explore applying for a research degree please visit the postgraduate research web pages or contact the Doctoral College dedicated admissions team.