The 13th Annual Postgraduate Research Conference, hosted by the Doctoral College.
Jordan King (MRes, FST) with this poster entitled: Exploring nostalgic experiences in video games.
Click the poster below to enlarge.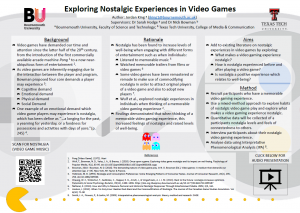 Video game players may experience emotional demands, such as nostalgia, when thinking of a memorable game which can increase levels of well-being and social connectedness (Wulf, Bowman, Velez & Breuer, 2020). Yet previous literature has asked participants to think about a nostalgic game, the current study aims to have participants play a memorable video game to see what may make a video game nostalgic, explore how is nostalgia experienced before and after playing a nostalgic video game and, explore whether nostalgia is a positive experience which relates to well-being. Using a mixed method approach, quantitative data will explore levels of nostalgia before and after playing a nostalgic video game, and levels of well-being. Qualitative data will be collected to explore what may make a video game nostalgic which will be analysed using Interpretative Phenomenological Analysis. This contributes to existing literature on video game nostalgia by having participants play video games.
---
You can view the full poster exhibition and pre-recorded presentations on the conference webpage.
If this research has inspired you and you'd like to explore applying for a research degree please visit the postgraduate research web pages or contact the Doctoral College dedicated admissions team.