The 13th Annual Postgraduate Research Conference, hosted by the Doctoral College.
Iram Bibi (PhD, FST) with this poster entitled: Reliability, validity, and feasibility of a generic quality of life scale for use directly with community dwelling older people with dementia.
Click the poster below to enlarge.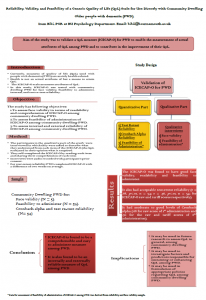 Currently, measures of quality of life (QoL) used with people with dementia (PWD) are mainly health-related. Health is not an actual attribute of but a means to attain QoL. The ICECAP-O scale measures attributes of QoL. In this study, ICECAP-O was tested with community dwelling PWD for face validity (N = 5), feasibility to administer, internal, and test-retest reliability (N = 54). The ICECAP-O was found to have good face validity and feasibility to administer. It also had acceptable test-retest reliability (r = .68, p<.01, n = 54; r = .56, p<.01, n = 54; for ICECAP-O raw and tariff scores respectively) and moderate to good levels of Cronbach alpha (.68 for raw score of 1st administration and .70 for the raw and tariff scores of 2nd administration) (Cicchetti, 1994). Therefore, ICECAP-O appears to be a useful measure for future research to directly assess actual attributes of community-dwelling PWD's QoL.
---
You can view the full poster exhibition and pre-recorded presentations on the conference webpage.
If this research has inspired you and you'd like to explore applying for a research degree please visit the postgraduate research web pages or contact the Doctoral College dedicated admissions team.