The 13th Annual Postgraduate Research Conference, hosted by the Doctoral College.
Abier Hamidi (PhD, FHSS) with this poster entitled: HIV epidemic in Libya: Identifying gaps.
Click the poster below to enlarge.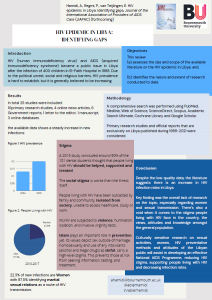 HIV (human immunodeficiency virus) became a public issue in Libya after the infection of 400 children in El-Fatih Hospital in 1988. Due to the civil war, social and religious barriers, HIV prevalence is hard to establish, but it is generally believed to be increasing.  This review (a) assesses the size and scope of the available literature on the HIV epidemic in Libya; and, (b) identifies the nature and extent of research conducted to date. A comprehensive search was performed using PubMed, Medline, Web of Science, ScienceDirect, Scopus, Academic Search Ultimate, Cochrane Library and Google Scholar.  Primary research studies and official reports that are exclusively on Libya published during 1988 -2021 were considered.  In total 25 studies were included. The literature suggests there is an increase in HIV infection rates in Libya.  Culturally sensitive research will assist in reducing HIV stigma and decreasing infection rates.
---
You can view the full poster exhibition and pre-recorded presentations on the conference webpage.
If this research has inspired you and you'd like to explore applying for a research degree please visit the postgraduate research web pages or contact the Doctoral College dedicated admissions team.