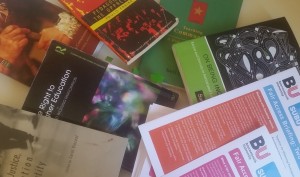 As part of BU's innovative Fair Access Research project, we've been finding out how widening participation could be understood as a process of organisational learning.
Over the summer we have been doing some fieldwork and collecting sector-wide survey data to establish how different people in different organisations learn about widening participation.
We want to know how you, here at BU, understand, learn about and practice widening participation. We've designed a survey to capture your voices and experiences. 
In July we had the privilege of meeting with colleagues from across the university to explore some of these issues – we want to open that invitation to more of you through this survey .
For more information about the organisational learning project, email Dr Maggie Hutchings on mhutchings@bournemouth.ac.uk
For more information about BU's innovative Fair Access Research, email the Principal Investigators, Dr Vanessa Heaslip (vheaslip@bournemouth.ac.uk) and Dr Clive Hunt (chunt@bournemouth.ac.uk).
To complete and share the survey follow this link.