Produced by Ashleigh
Graduated
BSc (Hons) Geography
One of the most relevant, slightly taboo topics at university is money.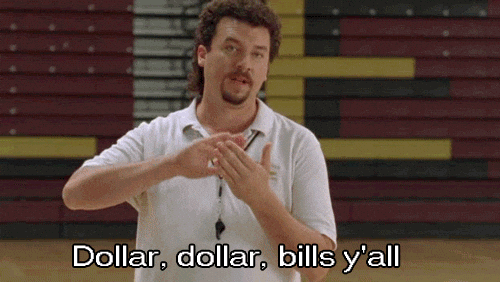 Let's face it, university is expensive, from rent, to living costs to tuition fees. Although student finance is there to lend a helping hand, a lot of the time this just doesn't stretch far enough to cover all necessary expenses. So, the simple solution to this for many students is to take on part time work whilst studying…which has its pros and cons that I can highlight from experience.
Pro's:
The independence that the extra income every month allows you to have, is definitely a pro. It means that you can better stick to your monthly budgets and won't (always) need to go into a super-panic-overload when a surprise emergency cost pops up out of nowhere. It also allows you to save some money for summer plans or things you may want to do once you finish uni, which is a great idea.
Part time employment also improves your employability by boosting your CV experience and showing off your time management skills. Now, your part time retail job isn't going to fast track you to a job at NASA, but it will show your future employers that you have some initiative to be able to balance your studies with work. Depending on the job, it can also show case other ranges of skills that other experiences may not. For example, one of my current jobs is being a Student Ambassador, where I have a few different roles such as helping out at open days, mentoring younger students in secondary schools, and of course writing for this undergraduate blog! From these varied roles, I can show case lots of different skills that, as much as I love it, my retail job just wouldn't stretch to.
Cons:
Now for the cons. Having taken on quite a few jobs at a time, I have for sure learned a few definite downfalls of juggling work with uni. Many of them stem from taking on too many jobs (guilty) or take on too many hours at one job. To avoid this situation, when organising your time or booking shifts etc, remember why you are at uni: to study! So, if your jobs are taking up too much of your time and impacting on your grades and time spent focussing on your studies, then maybe it just isn't worth it.
Another con that I have found is that sometimes there is literally no time for anything else but working and studying! Having a part time job may mean saying goodbye to lazy days spent binge watching Netflix, gym sessions and maybe even seeing your friends as much as you're used to. It is SO important to make sure you don't burn out so try to compromise and still spend time doing what you like and not always working and studying.
So, now that some light has been shed on the pros and cons, the choice is yours. I hope it works out either way!
Find out more
Still stuck on money worries? Bournemouth University's budgeting guide can give you some tips to stay money savvy at uni