Produced by Holly
Graduated
BA(Hons) Public Relations
Happy National Volunteering week!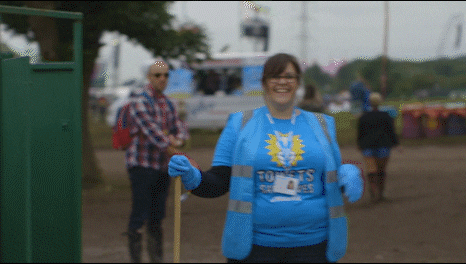 University brings to mind thoughts of opportunity and ways to get involved – and what better way to get involved than giving back to your community?
I personally find volunteering a really rewarding and fun way to get involved in local (and not so local!) events and give back to the community. Bournemouth University offers so many volunteering opportunities and you would be a fool not to make the most of them!
My experience of volunteering with BU was a little bit outside of the box, but I can definitely say that it was the experience of a lifetime! I applied to be a part of Bournemouth's study abroad program and attended a school in New Jersey, USA. If this wasn't amazing enough on its own, the study abroad program offered so many different volunteering opportunities while I was away. One of these opportunities was to volunteer at the New York City marathon!
This was hands down one of the highlights of my trip. I met all of the volunteers in the morning – a little bit nervous as I didn't know anybody there – but I made friends so quickly! I ended up working with a group of other volunteers handing out water to the runners as they came past.
Not only did this experience help me make some new friends but it also really inspired me. Watching people of all ages, abilities, and levels of fitness running the marathon was amazing. Although I found that not only were the runners amazing but the other volunteers too. One of men that I met whilst volunteering had been doing it for the past 20 years and said that him and his wife had even spent their honeymoon in Africa volunteering to build schools in a small village.
Volunteering is honestly a really rewarding activity and makes you feel so much more connected to your community. I have always left volunteering experiences with a smile on my face and a handful of new friends who I shared the experience with. Plus in addition to feeling good, volunteering looks great on your CV too!
There are so many ways to get involved with volunteering at BU. SUBU's Raising and Giving charity (RAG) arranges so many cool volunteering opportunities both locally and internationally that you can get involved in. Every year they host "jailbreak hikes" where you and a team of friends have to get as far away from university at possible in within a set time limit – without taking any public transport. Urban myth has it that some team have even ended up in different countries! Among all this chaos, teams are sponsored and raise money to donate to charity for their efforts.
For those who are feeling even more adventurous, RAG also offers the chance to climb Mt. Kilimanjaro to raise money for the Hope for Children charity. This allows students to raise money to help increase access to education and healthcare for children in need as well as climbing a mountain that only 1% of people in the world have climbed!
Volunteering is such a great way to get involved in the community at Bournemouth University and feel good about giving back. Volunteering has definitely enriched my experience at BU and I hope that more people get involved in the amazing opportunities that BU has to offer. For more information on volunteering opportunities at Bournemouth, please check out the links below!